IsaU Adelaide
May 5, 2018

-

May 6, 2018

|

$149

[button link="https://backoffice.isagenix.com/Events/Common/UniversityEvent?id=87c6b6e8-4da5-4d56-955b-377735c714a4&id2=950&SkipMobileCheck=1″ color="green" size="xlarge" type="flat" shape="square" target="_blank" title="" gradient_colors="|" gradient_hover_colors="|" accent_color="" accent_hover_color="" bevel_color="" border_width="1px" shadow="" icon="" icon_divider="yes" icon_position="left" modal="" animation_type="0″ animation_direction="down" animation_speed="0.1″ alignment="right" class="" id=""]Register Now![/button]
IsaU is a two-day conference where you'll learn all about Isagenix no-compromise products from long-term product users and learn how to develop your Isagenix business from Top Leaders. You'll have the opportunity to try new products and will leave inspired to take your health and wealth to the next level!
Speakers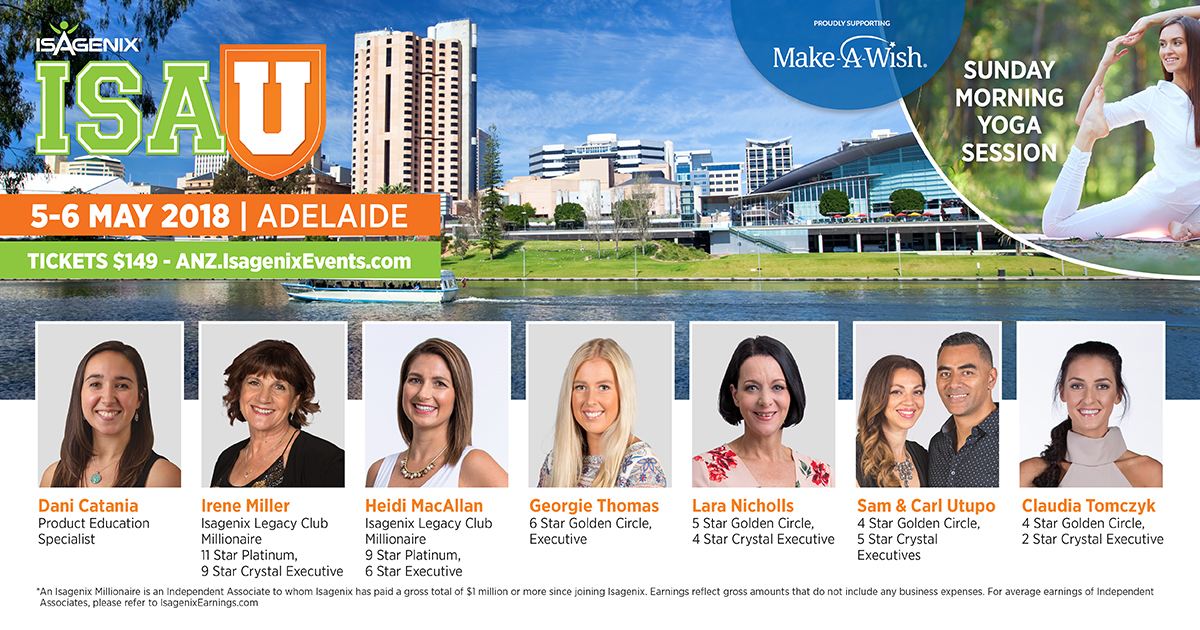 Agenda
Saturday 5 May
Registration: 7:30am
General Session doors open: 8:30am
General Session: 9:00am – 5:30pm
Sunday 6 May
Registration: 7:30am
General Session doors open: 8:30am
Make-A-Wish® yoga ($5 donation): 9:00am
General Session: 9:30am – 5:45pm
Hotel and Travel


Venue
Adelaide Convention Centre
North Terrace, Adelaide, 5000
Only 15 minutes' drive from Adelaide Airport, the Adelaide Convention Centre is just a stone's throw away from plenty of transport and accommodation options.
We've teamed up with Ozaccom to bring IsaU Adelaide attendees exclusive deals on all the best, surrounding hotels. Book through the link here.
Parking
Local or hiring a car? The Adelaide Convention Centre operates two convenient on-site car parks, Riverbank car park accessible through Morephett Road via Festival Drive and North Terrace car park accessible from North Terrace.
Rates
Early Bird rates – $16 available 7 days a week for entry between 5:30am – 9:30am and exit between 2:30pm – 6:30pm. Outside of these times, the below parking rates apply:
0-1 hr – $7.00
1-2 hrs – $11.00
2-3 hrs – $15.00
3-4 hrs – $17.00
An additional $1.00 will be charged for each hour to a maximum of $29.00/24 hour period.
Public Transport
Taxi
Three main taxi companies operate in the Adelaide metropolitan area and can be booked for pick up or drop off from the North Terrace and Morphett St Bridge entrances.
Train and tram
The Adelaide Railway Station is located a 2 minute walk from the Adelaide Convention Centre and the Tram stop is just in front of the Railway Station.